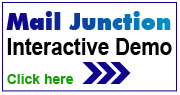 Synametrics Mail Junction - Features
In today's world every client expects fast and efficient customer service from their vendors. Synametrics Mail Junction helps companies achieve this goal. Our solution is designed to keep your costs down while increasing productivity and improving customer loyalty.
Here is a list of key features:
Message Consolidation - Gather all important messages to a central repository making it available to any employee within your company from anywhere at anytime. It assures that important messages from existing as well as potential clients are answered in a timely and efficient manner.


Save money on maintenance - All binaries are installed on one machine. This reduces the cost of ownership tremendously as your support staff spends less time in configuring each client machine


Remote access - All you need is a web browser to access stored messages. This allows your employees to reply important emails from places like airports, client locations and home.


Intuitive and easy to use - Your users will be up and running within minutes. Most pages come with Usage Tip maximizing their understanding of the interface.


Message routing - Automatically create rules to route messages to a certain user within your company. This can also be done manually by any individual.


Preserve communication history - Maintain accurate customer-related communications records with automated tracking of customer e-mail messages. Generate and send auto-response e-mail to customer requests.


Template responses - Pre-defined standard responses allows a consistent, professional reply to common customer inquires that conform to corporate policies, which greatly increases the productivity of your employees.


Built-in spell checker - Using a built-in spell checker help your users avoid any misspelt words.


Message disclaimers - Automatically insert messages disclaimers and policy statements to any outbound email.